6 mars, 2023
Catella Residential Investment Management names Alexandra Chevalier Acquisition Manager of 'energy-positive' residential impact fund
Berlin-based Catella Residential Investment Management (CRIM) has appointed Alexandra Chevalier as Acquisition Manager of the Catella Elithis Energy- Positive Fund. The recently launched residential impact fund plans to invest €500 million in Elithis energy-positive residential buildings.
Alexandra Chevalier's real estate career spans 20 years across European markets. She started out as a financial auditor at Ernst & Young and joins CRIM from GLL Real Estate Partners where she was head of transactions with responsibility for France, Belgium and Italy. Prior to that, she held international investment positions at Colliers and CBRE Capital Markets. More recently, she completed a master's degree in sustainable development and CSR global management at Mines ParisTech and wrote a professional thesis on real estate impact investing at Citizen Capital, a pioneer of impact investment in Europe.
Xavier Jongen, Managing Director, CRIM, said: "Alexandra is a specialist in the European real estate market and will play a crucial role in implementing our ambitious energy-positive housing program for Europe thanks to her deep understanding of dual materiality where environmental and social returns are given equal consideration alongside financial returns. Our new Catella Elithis Energy Positive Fund (CEEPF) has been qualified as a 'dark green' impact fund under Article 9, the highest designation under the EU Sustainable Finance Disclosure Regulation, and we aim to build 25-30 Elithis buildings across France."
 The Catella Elithis energy-positive residential impact fund (CEEPF) received from Norway's municipal and public health sector occupational pension company KLP and a group of Institutional investors, close to €100 million in the first closing earlier this month.
Alexandra Chevalier added: "Working on Catella's new energy-positive impact fund in partnership with the French Elithis Groupe is an exciting new challenge for me. Housing shortages have become chronic across many countries in Europe and energy bills are soaring due to rising oil and gas prices. Catella and Elithis are leading a potential long-term solution to mitigate against these crises in Europe and I look forward to playing my part in a future of secure, affordable, and sustainable housing."
The Elithis towers, developments from the French Elithis Groupe, a specialist in building sustainable, operationally low carbon properties at standard construction costs, already outperform the EU's 2050 'net carbon zero' target. by feeding excess energy back to the public grid while residents benefit from significant savings on energy costs. The fund has already -under the lead from Alexandra- acquired a 64 apartment Elithis project in Mulhouse, north-eastern France, in February 2023.
BBC StoryWorks Video: The World's First Energy Positive Residency
https://www.bbc.com/storyworks/building-communities/the-worlds-first-energy-positive-residency 
INREV ESG Case Study: The World's First Energy Positive Residential Tower
https://www.catella.com/globalassets/cision/documents/2022/elithis-danube-tower.pdf
 About Catella Residential Investment Management GmbH (CRIM)
Catella launched its first European residential fund in 2007 and its first dedicated European Student Housing Fund in 2013. CRIM is a subsidiary of the Stockholm-based Catella AB Group and its residential real estate business comprises portfolio management, acquisitions, sales and asset management. CRIM manages and advises several funds and mandates and has assets under management of more than €7,5 billion across 10 European countries.
For more information, please contact:
Catella Residential Investment Management GmbH
Stine Zöchling
Head of Marketing and PR European Residential
Telephone: +49 (0)30 887 285 29 76
Mobile: +49 (0)151 544 51 005
3 mars, 2023
BZK Grain Alliance AB is Pleased to Announce the Common Project with USAID to Help Ukraine Continue Feeding the World
Today, the U.S. Agency for International Development (USAID) announced new partnerships with Grain Alliance, Kernel, and Nibulon to help Ukraine overcome immediate and long-term export logistics challenges caused by Russia's full-scale war and continue to provide much-needed grain to the global market.  The combined investments exceed $44 million and are projected to increase grain shipping capacity by more than 3.35 million tons annually.
USAID facilitated the partnerships through the Agriculture Resilience Initiative – Ukraine (AGRI-Ukraine), the agency's flagship effort to help Ukraine increase its capacity to produce, store, ship, and export grain despite Putin's invasion.  The war, most notably the Russian Federation's months-long blockade of Black Sea ports from late February to August 2022, has drastically diminished Ukraine's export capacity and left exports dependent on severely constrained rail capacity.  Rail export, river, and other overland routes must be improved and expanded to avoid dependence on Black Sea ports and allow Ukraine to efficiently access regional markets.
These new transshipment investments will increase grain export operations at three terminals: Izmail and Reni, both on the Danube, and Čierna nad Tisou in Slovakia.  The co-investments include $8 million from AGRI-Ukraine and more than $36 million from the three partners and will cover a range of expansion needs from design and construction, to renovate berths at the Reni port and to expand the Port of Izmail, to purchasing a transshipment storage facility in Slovakia including building silos and procuring transport equipment such as trucks and railcars. USAID will contribute through procuring grain loading equipment, temporary storage structures, and remanufactured locomotives.
BZK Grain Alliance AB has operated in Ukraine for more than 20 years, striving to restore Ukraine as the breadbasket of the world.  Grain Alliance currently cultivates around 60,000 hectares as well as operates six grain elevators with a total drying and storage capacity of more than 300,000 tons.  In May of 2022 Grain Alliance secured the Cierna nad Tisou transshipment facility in Slovakia to provide an uninterrupted route for Ukrainian producers to transport grain by rail.  After the first successful shipment in June, by mid-December already 100,000 tons of grain have been shipped.  The expansion will allow Grain Alliance to increase export volumes by more than 500,000 tons annually along this overland corridor.
Ukraine's largest producer and exporter of sunflower oil and largest exporter of grain, Kernel's integrated grain and oilseed value chain includes 363,000 leasehold hectares under farming, 3.5 million tons capacity for sunflower seed crushing, 2.3 million tons of storage capacity, and 10 million tons capacity at deep-water export terminals.  In 2022, Kernel secured sunflower oil and meal transshipment capacities in the Ukrainian port Reni on the Danube River.  During the summer, Kernel invested in barges, coasters, and handy-size carriers for grain and oil to make exports via the Danube River more efficient.  This new investment in berth access will allow for a 600,000 tons per annum increase in volume.
Over the last 30 years, Ukraine's Nibulon LLC has created a vertically integrated grain logistics infrastructure network that includes 80,000 hectares under cultivation and a total capacity of over 2.25 million tons storage.  Nibulon employs 6,000 people and has invested more than $2.3 billion in the Ukrainian economy.  This includes $600 million in a modern fleet of 82 vessels, currently blocked because of the Russian aggression.  Their recent investments include the new Bessarabska branch transshipment terminal in Izmail, building on their 2009 expertise in using the Dnipro and the Southern Buh Rivers as transport waterways of Ukraine. With a carrying capacity of 300,000 tons per month, the terminal expansion will facilitate an additional 2 million tons of export annually.
Agriculture, the bedrock of the Ukrainian economy, accounts for nearly 20 percent of Ukraine's GDP, 20 percent of the workforce, and more than 40 percent of total export revenues.  The USAID-led AGRI-Ukraine initiative bolsters Ukrainian agricultural production and exports, supports Ukraine's embattled economy, and alleviates the global food security crisis exacerbated by Putin's brutal war on Ukraine.  AGRI-Ukraine provides critical agricultural supplies, improves export rail logistics and efficiency, increases farmers' access to finance, and supports storage, drying, and processing needs.
Through AGRI-Ukraine, USAID contributed $100 million, has leveraged more than $70 million, and seeks to leverage an additional $80 million, including from fellow donors, the private sector and foundations, with an overall investment target of $250 million.  For more information on AGRI-Ukraine and how to partner with USAID to support Ukraine's agriculture sector, visit the AGRI-Ukraine link: www.usaid.gov/ukraine/agriculture-resilience-initiative-agri-ukraine.
3 mars, 2023
Catella advised Antilooppi in the sale of an office property in Helsinki
Antilooppi has divested an office property located at the address Takkatie 1 in the Pitäjänmäki submarket in Helsinki to Corum on 28 February 2023.
The property is well located at the address Takkatie 1, close to the Pitäjänmäki train station and the upcoming Jokeri light railway station.
The property has BREAAM Very Good environmental certificate, and its lettable area is 5,000 sq.m. In addition, the property has 122 parking spaces. The property is fully leased to Fellowmind Finland Oy.
Catella acted as Antilooppi's exclusive financial advisor in the sales process.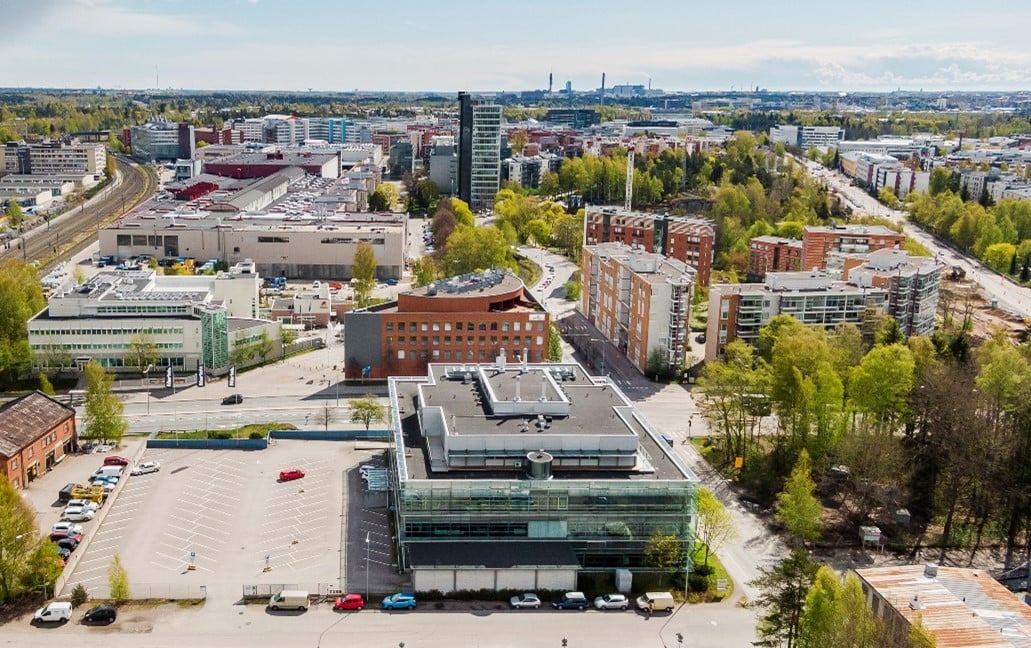 For more information, contact:
Markus Juvala
Director
+358 50 3737 540
markus.juvala@catella.fi
Antti Louko
Managing Director
+358 50 5277 392
antti.louko@catella.fi
2 mars, 2023
Catella Finland advised in the sale of an office and logistics property in Kuopio
Catella Property Oy acted as the exclusive financial advisor to Senate-properties and SOK when they sold an office and logistics property located in Kuopio with a total area of more than 15,000 square meters.
The sold entity includes 100% of the shares of Kiinteistö Oy Kirjatalo and the plot owned by the Senate-properties. Completed in 1975, the total area of the building is 15,535 square meters and the area of the plot is 37,000 square meters.
The buyer is a company owned by Mika Rissanen, the owner of Kuopion Woodi Oy, which will develop the property and continue to offer the property for rental use. In addition, the real estate acquisition meets the expansion needs of the company operating in Kuopio area.
For more information, contact:
Jaska Alatalo
Sales manager
Catella Property Oy
+358 10 5220 454
jaska.alatalo@catella.fi
Petteri Heikkinen
Director
Catella Property Oy
+358 40 7301 669
petteri.heikkinen@catella.fi
28 februari, 2023
French Insurer COFACE Commits Equity to Catella's European Residential Fund III
French trade credit insurer COFACE has committed to the Catella European Residential III Fund, one of Europe's largest cross-border residential investment vehicles with a strong focus on affordable housing and CO2 reduction.
This commitment brings the total capital raised by the Fund close to €1.25 billion since inception in 2019. CER III — a Luxembourg-domiciled SICAV fund — secured about €500 million in new equity commitments from COFACE and a range of European institutional investors, mainly pension funds in 2022.
COFACE was advised by Amundi Real Estate's fund selection and multi-management business line. CER III is managed by Berlin-based Catella Residential Investment Management (CRIM).
Michael Fink, Managing Director, CRIM, said: "CER III has achieved remarkably strong and rapid growth since its launch in 2019. Catella focuses relentlessly on the highest possible sustainability targets for the decarbonisation transition and which encompass societal fairness through affordable rents."
Sabrina Communie, Group Investment, ALM & Cash Director, COFACE, added: "This investment fully supports COFACE's  commitment to reduce its CO2 footprint."
CER III integrates a significant reduction of greenhouse gas emissions from its properties and sustainable societal objectives in its investment mandate. The Fund has a geographically diversified portfolio of around 30 residential properties in seven countries across Europe. Alignment of interests between Catella and institutional investors in CER III is achieved through incorporating a penalty clause into the management agreement whereby CRIM will donate part of its recurring management fee to a relevant 'impact-related' United Nations Fund should the manager fail to meet the financial or societal targets set for the fund.
Abdallah Ould Brahim, CBRE France, Head of Capital Advisors, concluded: "The CER III Fund is targeting modern, affordable residential properties, including new developments, which provide stable cash flow and offer long-term value growth. CBRE Capital Advisors are mandated to advise on fundraising from international investors, and we're happy to welcome COFACE as the third reputable French investor in the Fund in addition to the two other existing French institutional investors. I see this Catella vehicle as one of the most compelling offerings in the pan-European residential investment market, not least because of its pioneering ESG profile."
CER III's mandate also allows the Fund to allocate up to 10% of its total assets under management to the 'Elithis Impact Fund', the world's first 'energy-positive' residential impact vehicle, which invests in joint venture developments, currently in France, between Catella and French sustainable engineering group Elithis. The Elithis residential towers produce more renewable energy from solar power than the buildings and the tenants consume, reducing household energy bills and boosting disposable income.
About Catella Residential Investment Management GmbH (CRIM) 
Catella launched its first European residential fund in 2007.The team also launched the first dedicated European Student Housing Fund in 2013. CRIM is a subsidiary of the Stockholm-based Catella AB Group and its residential real estate business comprises portfolio management, acquisitions, sales and asset management. CRIM manages and advises several funds and mandates and has assets under management of more than €7.5 billion across 10 European countries.
About CBRE Capital Advisors
CBRE Capital Advisors works closely with real estate managers and investors as corporate finance advisor with a background in the commercial real estate market. The team, consisting of international experts, are skilled to support and assist in preparing and completing transactions and to provide real estate professionals with strategic and tactical advice for all indirect property investment queries, including topics as property funds, joint ventures or club deals, or related strategic organizational questions.
CBRE Capital Advisors B.V. is licensed by the Authority for Financial Markets (AFM) and acts as placement agent to raise international capital for CERIII outside of Germany.
About COFACE
With 75 years of experience and an extensive international network, COFACE  is a leader in trade credit insurance and adjacent specialty services, including Factoring, Debt Collection, Single Risk insurance, Bonding and Information services. COFACE's experts work to the beat of the global economy, helping ~50,000 clients in 100 countries build successful, growing, and dynamic businesses across the world.
About Amundi
Amundi, the leading European asset manager, ranking among the top 10 global players[i], offers its 100 million clients – retail, institutional and corporate – a complete range of savings and investment solutions in active and passive management, in traditional or real assets. This offering is enhanced with IT tools and services to cover the entire savings value chain. A subsidiary of the Crédit Agricole group and listed on the stock exchange, Amundi currently manages more than €1.9 trillion of assets.[ii]
With its six international investment hubs[iii], financial and extra-financial research capabilities and long-standing commitment to responsible investment, Amundi is a key player in the asset management landscape.
Amundi clients benefit from the expertise and advice of 5,400 employees in 35 countries.
Amundi Real Assets brings together a complete range of capabilities in real estate, private debt, private equity and infrastructure. Drawing on decades of experience in private markets, Amundi facilitates access to real assets for institutional and retail investors. With nearly €66.3 billion in assets under management[iv] invested in nearly 1,800 assets in 16 European countries, the business line is supported by 250 professionals in seven main investment hubs in Paris, London, Milan, Luxembourg, Barcelona, Madrid and Dublin. Find out more on real-assets.amundi.com.
Amundi Real Estate has developed a business line specialized in real estate multi-management. Amundi Real Estate is active in real estate fund selection since 2014, with more than €1.5 bn of (external) funds under management. With a rigorous selection and management process, and a strong focus on ESG criteria, Amundi Real Estate develops tailor-made solutions for institutional clients to build and manage portfolios of unlisted real estate funds.
For more information, please contact:
Catella Residential Investment Management GmbH
Stine Zöchling
Head of Marketing and PR European Residential
Office: +49 (0)30 887 285 29 76
Mobile: +49 (0)151 544 51 005