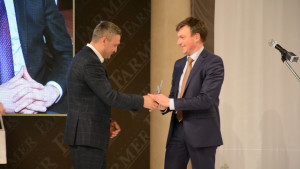 On April the 27th The Ukrainian Farmer, a respectful agrarian magazine, awarded the most successful companies within Ukrainian agriculture. Representatives of more than 100 agricultural companies came to The National Philharmonic in Kiev to get the prestigious awards in various nominations of the «Agrarian Elite of Ukraine Rating 2018». This event is a kind of recognition of national agro producers great achievements, as mentions the editor in chief of The Ukrainian Farmer magazine, Pavlo Korotych. «As we can see, nowadays Ukrainian GDP is basically formed thanks to the agricultural production chain. That's why we consider that farmers deserve this celebration. It`s our eighth annual event, and everyone can see that there were no «eternal» or «suggested» winners, but only those who truly deserved. The agrarian elite of Ukraine for the nominations is chosen by the lead scientists, top experts and the best farm operators», – the head of the magazine adds.
So «Agrarian Elite of Ukraine» from The Ukrainian Farmer magazine is considered one of the most authoritative ratings in the country.
The winner in the «Infrastructure Development» nomination this year is Grain Alliance. The company has a number of successful projects particularly in increasing elevating capacity to more than 250 thousand tones.
"We believe that «Agrarian Elite of Ukraine» by The Ukrainian Farmer magazine is an important award for our company, because it is selected based on the agrarian society`s opinion. That means that we are recognized not only by our partners and colleagues, but also by our competition. The stakeholders' opinion is very important to our company and we will do our best to stay among the best. We are grateful to The Ukrainian Farmer magazine`s experts for the award, and our intension is to continue our development and development of those territories where we are working, because the promotion of countrysides infrastructure and restoring of Ukraine as the bread basket of the world are the main goals of Grain Alliance", said the company CEO Evgeniy Radovenyuk.