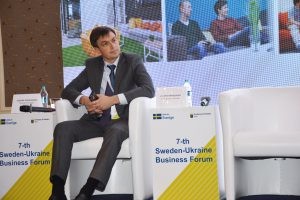 June 14th , the traditional 7th Swedish-Ukrainian Business Forum organized by the Swedish Embassy in Ukraine together with partner organizations has taken place in Kyiv. The main missions of the event are the establishment of relations between businessmen of the two countries, the exchange of new technologies and industrial solutions for business. It is also an opportunity to learn more about the open market of Sweden. Such well-known Swedish companies as ABB, Ericsson, Scania, Grain Alliance, SEB Corporate Bank, SKF, Sigma Software speak about the credibility of the event. An active part is also taken by the Stockholm Chamber of Commerce and Westinghouse Sweden AB.
"This forum is the largest by the number of visitors, partners, participants and events. The purpose of the forum has not been changed since 2012. It is to create a platform for communication between Sweden and Ukraine, to promote trade, economic and cultural ties between these countries. The focus of the forum is to strengthen business relationships that have already been worked out and to establish new ones", -says Bogdan Senchuk, the President of SBA the Swedish Business Association in Ukraine.
Prospects for bilateral trade in the context of a deep and comprehensive free trade area between Ukraine and the EU were discussed at the forum. Export procedures and the achievement of sustainable mutual economic growth were the focus of the forum. They also considered how improvement of public procurement and the decentralization process create opportunities for business, as well as further improvement of gender equality at the labor market.
Grain Alliance has been a traditional partner of the Swedish-Ukrainian business forum since 2012 and represents the agribusiness sector. The Grain Alliance Company was presented with an exhibition stand at the event. The President of the company Yevgeniy Radoveniuk reported on the corporate responsibility of the company, in particular, social programs in support of educational and medical institutions in Ukrainian villages.
"The uniqueness of our company is that 100% of the company's investments are Swedish, but almost all of the company's employees are Ukrainians, because all the operating business is in Ukraine,"- says Yevgehiy Radoveniuk, the president of Grain Alliance.
He also added:
–The issue of trust is especially meaningful in our country, and the many years of experience of the Swedish-Ukrainian partnership is a good example. Grain Alliance has demonstrated stable and effective work in Ukraine for 20 years. We want to continue developing, and in some way that depends on how the government, business and partners perceive the company. In our global world, we need to be integrated into the business community. We also invited the community leaders of Kyiv region, Poltava region, Chernihiv region and Cherkasy region and the bankers we work with to the forum. Once again we are demonstrating the openness of the company in running the business to the partners and the guests of the forum.