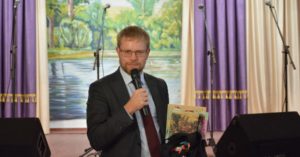 On November 13, the Ambassador Extraordinary and Plenipotentiary of Sweden to Ukraine Martin Hagström made a working visit to Poltava region for the first time. In particular, the ambassador visited the grain facilities of Grain Alliance (Baryshivska Grain Company) and met with the Chairman of the Board of Directors of the company, Mr. Johan Damne. The enterprise applies energy-saving programs on grain drying, which is introduced into to Ukraine. For instance, the company uses an Italian dryer by BONFANTI that works on alternative fuels such as grain processing waste and sunflower husk pellets.
– Baryshivska grain company has been operating for over 20 years in Ukraine. About 60 million dollars have been invested into the company development since the advent of the Swedish ownership. Today Baryshivska Grain Company is an agricultural producer with 100% of Swedish investments. The main policy and strategy of the enterprise is to process the European culture into the subject of organization of labor, both in the economy and in production, and in attitude to the land and to the human. Therefore, our strategy is intended for long-term cooperation with communities. Grain Alliance is a member of a group that has been steadily and confidently working in Sweden for 130 years. I think, such long-term cooperation will have a positive result in Ukraine as well, – says the executive director of Grain Alliance Yevgeniy Radovenyuk.
– Our activity has been based on the principles of social and ecological responsibility for a long period of time. We have been investors in Ukraine for 12 years , and we look forward to further fruitful cooperation,-confirms the above-said the chairman of the Board of Directors of Grain Alliance Johan Damne.
Also those present at the meeting were able to see and evaluate the cultivation of soil on a corn stub with the high-tech cultivator TopDown by Swedish company Väderstad. Grain Alliance has acquired 3 such cultivators and 2 Tempo seeders. New aggregates will be released in the field the following spring. Grain Alliance fruitfully cooperates with Väderstad in the matters of quality soil cultivation and sowing of grain.
Besides, the Ambassador and the chairman of the Board of Directors of Grain Alliance discussed the problems and prospects for doing business with Swedish investments in Ukraine.
– Today I saw the work of Grain Alliance. The embassy is working at expanding economic contacts between Sweden and Ukraine. The most important thing for new investors and businessmen is to see how companies with Swedish investments are working in Ukraine. I'm impressed: Grain Alliance is a large Swedish investment with modern technologies, environmental approaches to production, that are similar to those approaches in Sweden. The company investigated various aggregates at the opened tender and identified that the best are those of the Swedish company, which is also pleasing, -summed up Martin Hagström, the Ambassador of Sweden to Ukraine.