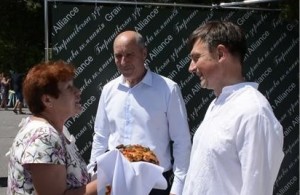 The celebration of the 20th anniversary of the Grain Alliance continued in the town of Piryatyn, Poltava region with a big concert, over five thousand spectators and solemn greetings. The guests of the event were local citizens, regional authorities and, last but not least, lease holders and employees of the company, who arrived from two large clusters of the company – Northern and Southern Poltava.
Anniversary concert took place at the central stadium of the town. The guests of the holiday could attend exhibitions of agrarian equipment of the company and products of folk artists. The youngest visitors could enjoy free amusement attractions.
"This holiday is not only about our present successes. This is our future application for the development of the company, "- said Evgeniy Radovenyuk, the President of Grain Alliance. – After all, we are actively investing in the expansion of production, which in turn means creating new jobs, increasing taxes to the local budget and supporting community in even greater volumes.